Proof that working for The Group Company is a real rollercoaster ride!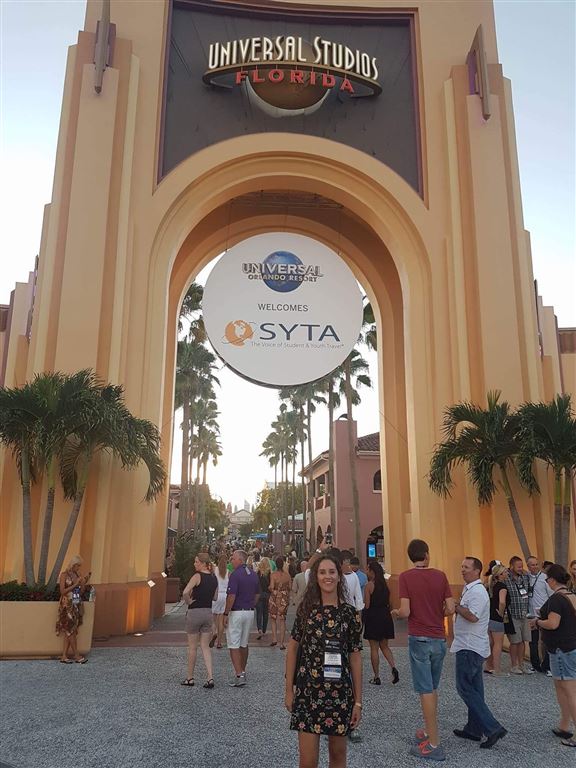 As anyone 'in travel' knows, a job in this industry can see you working far from home – but it's not often that work includes a few rides at Orlando, Florida's Universal Studios.
As part of our ongoing campaign to meet and share our products with the industry's top educational travel companies, Sales Manager Jenny travelled from Yorkshire to Florida last week, to attend the annual Student & Youth Travel Association (SYTA) conference.
The three-day event bought together professionals from across the student travel sector –wholesalers, travel planners, hotels, tourist boards, tour operators, attractions and restaurants, all committed to providing first-class tours and experiences for student groups.
With networking events, workshops, meetings seminars covering a vast range of subjects (from International Crises to the latest innovations in travel technology), Jenny was kept very busy. But it wasn't all work work work; the evening events included exclusive access to DisneyWorld and Universal Studios, where industry members let their hair down in style, without the usual epic queues.
We'd like to thank SYTA for being superb hosts and for organizing a very informative and educational event – it was especially great to expand our reach and meet with educational travel professionals, who we look forward to working more closely with soon.
Educational Groups are a core part of The Group Company's ongoing success, and a sector we are absolutely committed to improving further. Whether the enquiry is a couple of nights in historic London, a week-long discovery of European Battlefields, or seeing all the art that New York has to offer, The Group Company is here to help.
We love working with educational tours of all types, from schools and universities, through to adult and senior historical, literary and cultural learning groups. We understand the additional responsibility and care that is necessary in accommodating juniors, and the absolute imperative that the tour delivers on its educational remit with specialised tour leaders, guides, visits and experiences.