All that hard work pays off.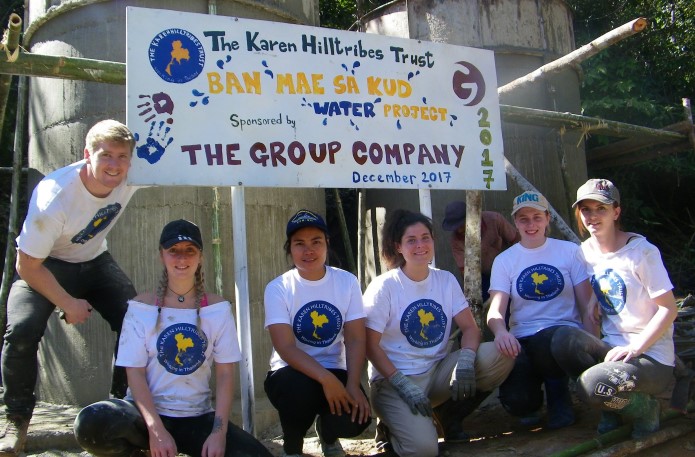 We want to thank all of our clients, colleagues, friends, and family who made it possible for The Group Company to raise over £21,000 last year in support charity that we officially sponsor - the Karen Hilltribes Trust.
In December of last year, following our fund-raising efforts, TGC team members travelled to northern Thailand to assist local villagers in constructing a gravity-fed water system and 28 latrine units in Ban Mae Sa Kud.
Here's a little information from the KHT report on the project:
Located 31km from Mae La Noi, Ban Mae Sa Kud is a small rural village of 130 Karen who live in 28 households. Before the project, the village collected water from an old and unclean government water system and did not have access to toilets. The project completed by the KHT in conjunction with TGC provided a clean source of drinking water and adequate sanitation facilities to all households in the village.
With a new water system now providing an abundance of clean drinking-water and latrines improving sanitation within the community, it is expected that community health will improve over time as a result of a decrease in preventable waterborne illnesses, such as typhoid and diarrhoea. Clean water is at the centre of community development and the new water system is expected to have many more benefits than just to community health. Decreasing the occurrence of waterborne diseases, such as diarrhoea and typhoid, is likely to decrease absences from school or income generating activities, and consequently increase access to education and improve livelihoods. As part of the clean water system, standpipes are installed at all households in the village, supplying water directly to households. Through eliminating the need to collect water from sources far away, Karen families will save time and energy, which instead can be used for education or income generation.
To date, KHT has now installed 195 clean water systems and built 2,696 latrines, helping approximately 53,260 Karen.
But that doesn't mean the work is done - KHT has identified 80 more locations in need of clean water, and we look forward to supporting them as we work together to ensure that every community in need receives support. For further information on Karen Hilltribes - check out some of the amazing work they do here - https://www.karenhilltribes.org.uk/home