It's been another hugely successful year of fundraising from everyone here at TGC, which means we are going to be able to help build a brand new clean water system in Ban Mei Sakud.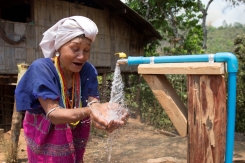 The Group Company is an official sponsor of The Karen Hilltribes Trust (KHT), an inspiring organisation working to bring education and clean water supplies to the Karen people in Thailand, one of the poorest communities in Asia. This year we have been focussing our creative energies on raising £16,000 to fund a brand new gravity-fed clean water system for the village of Ban Mei Sakud.
In typical TGC form, we have absolutely smashed it, and have so far succeeded in raising over £21,000 for the KHT. This year we have baked hundreds of cakes, endured some humiliating sponsored hairstyles, put on a legendary boat cruise party, got our Total Warrior on, run miles and miles of races, battled it out in a head-to-head 'The Apprentice' style table-top sale (featuring our very own Lord Sugar!), and even hosted a hair-raising Halloween ball in order to raise this fantastic sum of money!
A gang of intrepid explorers from our very own office will be making their way over to Northern Thailand this December to help the Karen construct the new water system. The project will be led entirely by the local villagers, our TGC staff will go over there to lend a hand and get to know the Karen people. We are thrilled to be able to take part in something so special and important, our ongoing collaboration with KHT is a real source of pride and joy for everyone in the office.
Providing the capacity for safer hygiene is vital for reducing the threat of preventable diseases - recent impact data suggests that villages with a KHT clean water system witness a 92% reduction in typhoid cases. We see our sponsorship as a chance to give back to communities and to share our good fortune. Whether it is providing a cleaner, safer living and working space or boosting the chances of success for talented young people, our sponsorship is a reflection of what we value as a company.
We look forward to further fundraising and working with The Karen Hilltribes Trust in 2018!
For further information on Karen Hilltribes - check out some of the amazing work they do here - https://www.karenhilltribes.org.uk/home